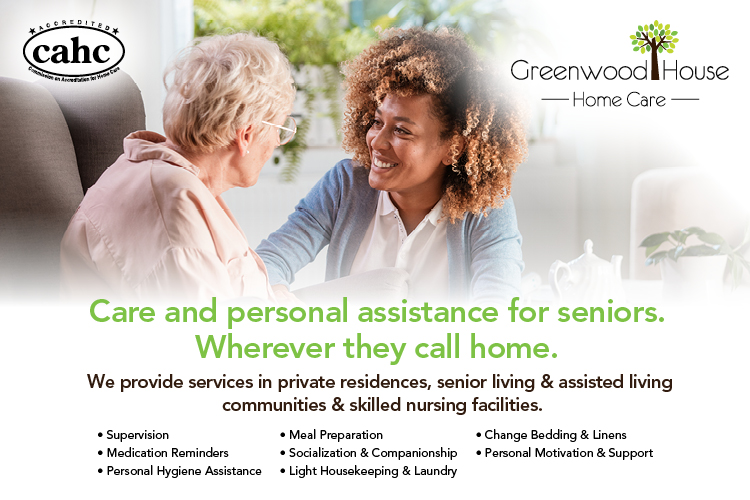 Greenwood House Health Care and Homemaker Program, known as Greenwood House at Home, is a Personal Care Service Firm licensed by the Division of Consumer Affairs and accredited by the Commission on Accreditation for Home Care (CAHC).  Recognized by the generosity of Shirley and Harold Silverman, Greenwood House at Home was founded in 1996 and has helped ensure that area seniors are able to enjoy independence in the place they most want to be – the comfort of their own home for as long as possible.  For over 20 years Greenwood House at Home has provided services to hundreds of older or disabled adults,  providing assistance with all activities of daily living such as personal care, companionship and light housekeeping.
Accreditations: Being an accredited CAHC agency certifies that Greenwood House at Home is maintaining the highest level of care for its clients. CAHC is New Jersey's largest accrediting organization whose standards are designed to help improve the quality of our day-to-day operations and delivery of care. Our staff made the commitment to begin the accreditation process in May 2017. It was received in June 2018 and is one of a select few in Mercer County that have achieved this recognition. An annual survey is needed to maintain the accreditation. As of June 2019, this accreditation will be standard for all home care agencies in New Jersey. Medicaid requires this certification as well.
Our Team: Homecare services and care are provided by experienced and certified home health aides who are committed to our mission of providing quality services with respect for the client. All are insured and bonded.  We pride ourselves on reference checks, including background checks, health screenings and formal orientation and clinical competencies. Additionally, our caregivers receive extensive training and continuing education in order to maintain their proficiencies to perform a variety of tasks. Visits can range from a few times a week to around-the-clock care, for short or long-term periods, and on weekends and holidays depending on a client's particular needs.
All client care plans are developed by a registered nurse with extensive home care experience with input from the client and/or family members.  The client's status and the services provided are closely monitored by the RN supervisor to ensure the highest quality and standards of care are provided.  Regular home visits, 24/7 phone support including weekends and holidays, and continued contact with the client and family members are provided to ensure satisfaction.  The RN supervisor will also arrange for additional services as the client's health or personal needs change.
Besides tailoring services to meet individual needs, we thoughtfully match our clients with compatible caregivers. According to Victor Walcoff, who has been with the same aides for over 10 years, "They know me better than I know myself. Their empathy is more than admirable." He especially appreciates that they don't make him feel like a burden.
Homecare Services: Help with chores, such a light housekeeping, meal preparation, and laundry as well as assisting with shopping and errands. Our certified caregivers can help with tasks that may have become too difficult or are unsafe to do on one's own.
Personal Care Services: Help with daily activities such as bathing, dressing, grooming, and feeding as well as assistance with mobility such as range of motion exercises (ROM). All services necessary to care for the personal needs of the client will be provided based on the nursing assessment and care plan.
Home Safety and Fall Risk Assessments: These assessments will identify areas of concern such as poor lighting or tripping hazards to make one's home safer and easier to manage.
If you are interested in learning more about Greenwood House at Home or would like to arrange for care, please contact our Homecare Department today at: 609-718-0562 or email Felicia Turner at fturner@greenwoodhouse.org.
Greenwood House Health Care and Homemaker Program provide all services without regard to race, religion, national origin, disability, age or sexual orientation.  Licensed by the State of New Jersey | License # HP0228900
VISIT GREENWOOD HOUSE TODAY